Home > News > Last publication by Ferdinand de Grijs
Last publication by Ferdinand de Grijs
A few weeks after his death on 10 August 2011, the last book by Ferdinand de Grijs appeared in print: Onze Heer. De gedachtenis van lijden, dood en verrijzenis van Jezus Christus - Our Lord. The Memory of the Passion, Death and Resurrection of Jesus Christ.
Op 10 augustus jongstleden overleed professor
Ferdinand de Grijs
. Het boek dat het laatste van zijn hand zou zijn
Onze Heer. Deel 2. De gedachtenis van lijden, dood en verrijzenis van Jezus Christus
was afgezien van de feitelijke druk helemaal klaar. Inmiddels is het verschenen bij Uitgeverij Valkhof Pers te Nijmegen.
In dit tweede deel van
Onze Heer
zet Ferdinand de Grijs zijn eerdere onderzoekingen in het katholieke geloof over Jezus Christus voort. Hij richt hier zijn biddende en onderzoekende geest op het lijden, sterven en verrijzen van Onze Heer, op wat is er gebeurd toen Hij aan het kruis leed, naar zijn lichaam in het graf rustte, naar zijn ziel de gestorvenen bezocht, en wat er gebeurde toen Hij uit het graf verrees.
Het gaat om gedachtenis, anamnese, memoria. Dit begrip duidt op het naar het heden halen van het verleden, vooral in de viering van de Eucharistie, maar ook daarbuiten. Het verhaalde wordt opgeroepen en wordt zo opnieuw realiteit. Het gedenken van het lijden en sterven en verrijzen van de Heer stelt Hem tegenwoordig als Levende Heer.
Ferdinand de Grijs formuleert de vragen die hij stelt vanuit zijn gelovige omgang met de levende Verrezen Heer en probeert in en vanuit die relatie door te dringen in een domein dat in zijn volle omvang alleen toegankelijk is voor het geloof.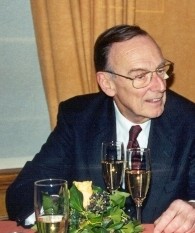 Dit boek van de hand van de oprichter en eerste directeur van het
Thomas Instituut te Utrecht
is voor 17,95 (en 1,95 verzendkosten) te bestellen bij de uitgever, bij voorkeur via email:
Valkofpers
of telefonisch: 024-3607250
Ook het eerste deel van
Onze Heer
-
Onderzoekingen in het katholieke geloof over Jezus Christus
, Nijmegen: Valkhof Pers 2010, isbn 9789056253332 - is daar verkrijgbaar.